Are you looking to remodel your bathroom? Think about what type of aesthetic you want for your bathroom. The best way to start your bathroom project is to assess bathroom trends this year. Lose yourself in sophisticated showers, beautiful stone-finishes, and tile patterns that you will love.
We've collected the top 9-bathroom trends in 2022 for you, with examples of before and after photos, so you have designs you need for inspiration.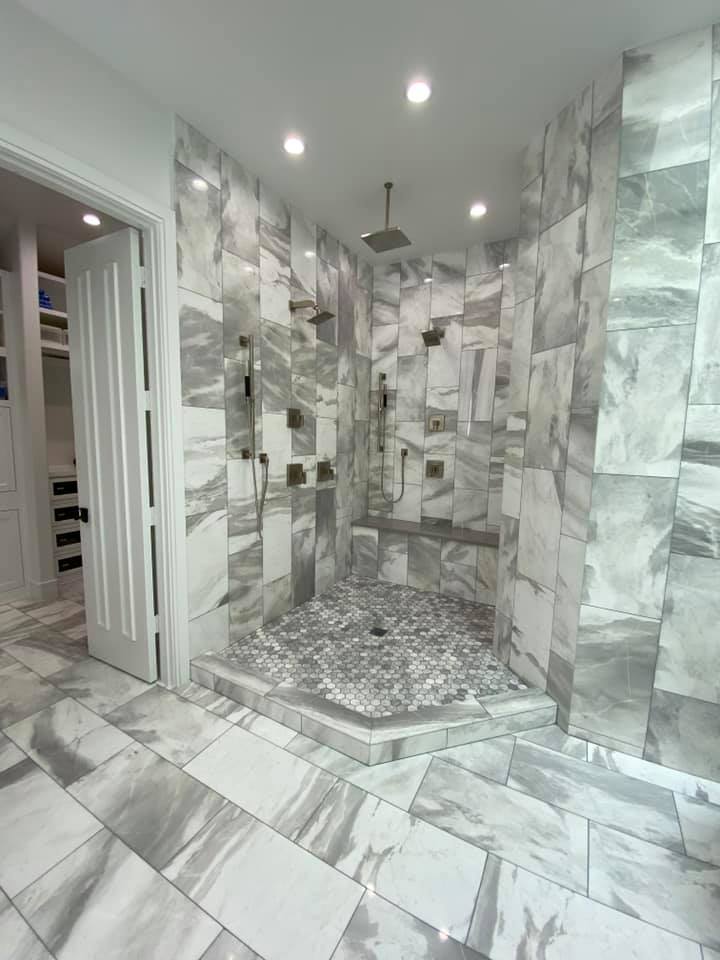 Bathroom remodels has become a major area of interest in most remodeling projects with costs between $20,000 – $60,000. There has been a surge of home's wanting to create a large spectacular double shower with 2 shower systems and possibly a large rain shower head and removing the traditional large tub. Many of these walk-in showers have no doors or threshold. Vanities now feature deep large drawers for towels and products to be stored in one place. Traditional mirrors and vanity lights are being replaced with large LED mirrors. Some of these items will be considered mid to high-range costs.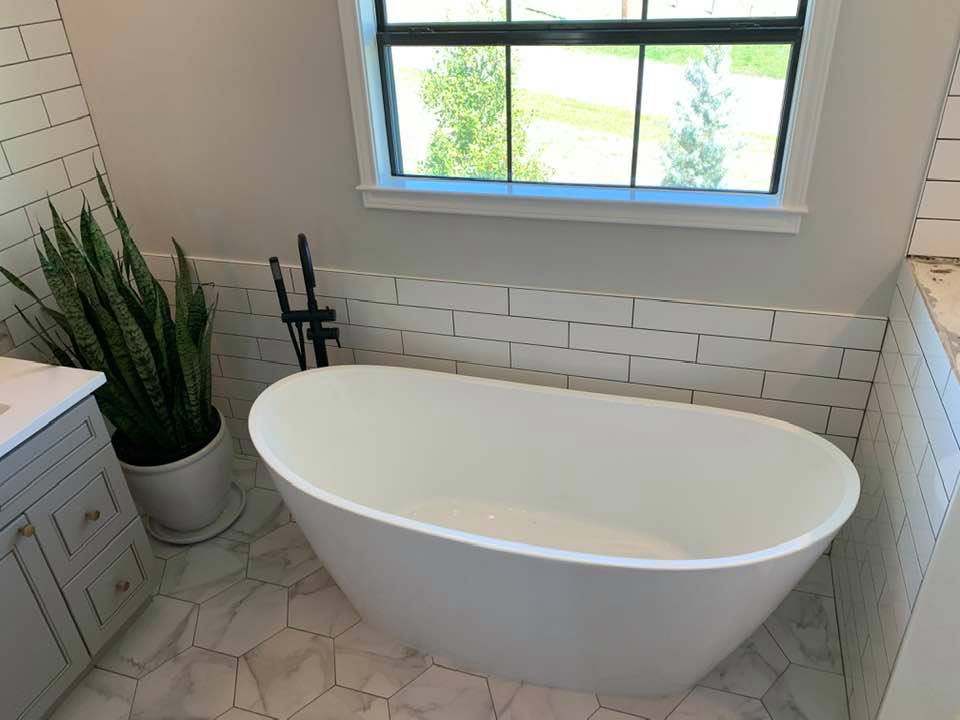 A significant trend, not entirely new but has started to become more popular, especially in the upcoming year, is the freestanding tub. It creates a fresh new look and will change your bathroom's look, feel, and style. A freestanding tub almost always brings a luxe, chic vibe to any bathroom. It is also perfect for relaxation and long soaks. They come in many different sizes, shapes, and styles and are more comfortable. In addition, since freestanding tubs stand-alone, they create the perfect focal point in your bathroom because they catch your eyes immediately.
Get started with your Millwood Remodel
Contact us today to set up an in-home consultation!
Two Heads are Better than One
Double showerheads are a hot, new trend, and we are ready to embrace this stylish, flexible bathroom living. Create a spa-like atmosphere at home by equipping your walk-in shower with multiple showerheads. For example, a rainfall showerhead that pours water from the ceiling mimics rain for a relaxing effect. In addition, a ceiling-mounted showerhead and another along the wall offer an entirely personalized experience. Not only are double showerheads nice to have, but it also adds luxury value to your home!
Suppose you are thinking about renovating your bathroom. In that case, it goes without saying that in addition to all the tub, shower, counter details, you will need to buy a new bathroom mirror as well. Asymmetrical Mirrors are here and better than ever before. Unique and geometric mirror shapes are all the buzz, but that's not all! Mirrors, just like the rest of the bathroom, are becoming smarter. Mirrors can have anti-fog technologies, smart touch abilities, USB charging stations, and just about anything else you can imagine.
With shaped frame options taking over, you can get as creative as possible when picking out the exact style. From the square, round, oval, and triangular to hexagonal, asymmetric, and whatnot, decorative mirrors come in all kinds of shapes and sizes you can imagine. And the most critical detail of bathroom mirrors is lighting. It's all about the lighting. A mirror equipped with light-emitting diodes (LED) is one of the best perceivable ways to reflect an image accurately. Not only does this type of mirror provide a realistic reflection, but it also adds light to the room. Overhead fixtures will also affect the mirror. Be sure to frame your mirror with the lights to give it the best lighting.
Tile Patterns & Shapes That You Will Love
Manufacturers are creating so many new designs for tiles. They are going beyond the colors and graphics to change the traditional tile shape into something more exciting and sensational. Look for new and improved hexagon, arabesque, diamond, Moroccan fish scales, or chevron patterns in new colors & textures. These shapes will be seen throughout the bathroom, not just on the floor. They will be used as bathroom backsplashes, shower walls, and possibly ceiling accents to create the bold accents. This fun style gives homeowners the chance to tap into their creative side or hire a remodeler/designer to get artistic for them. Expect to see an array of bold prints and colors all over tiles this year!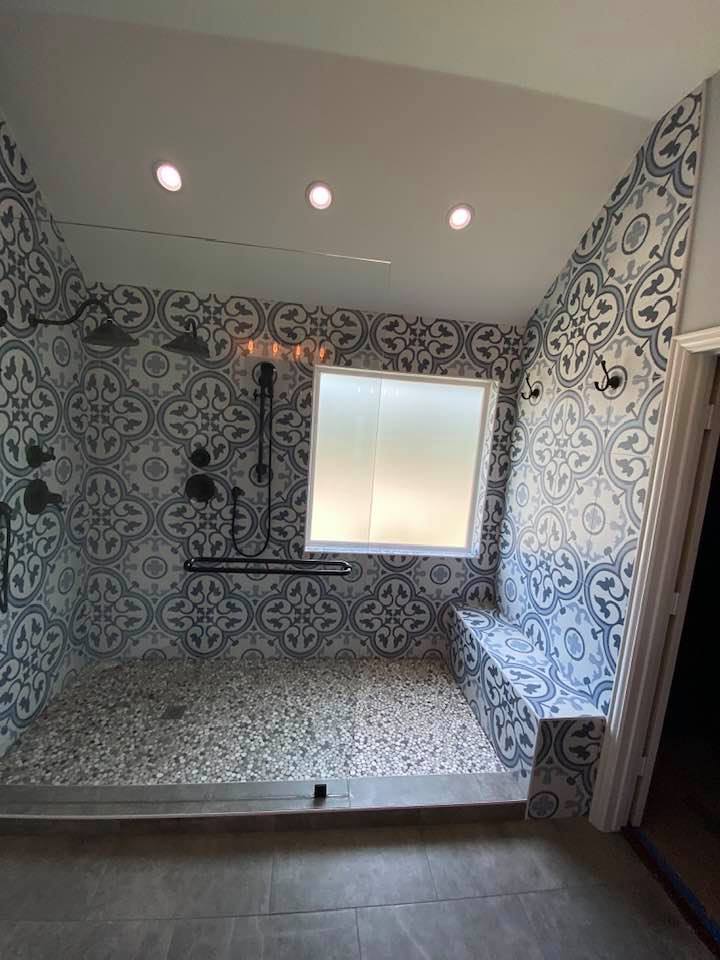 Floating Bathroom Vanities
Floating bathroom vanities are an exciting new bathroom trend. They contain fixtures that appear to be "floating" because they are mounted to the wall and do not sit on the floor. An advantage of this vanity is to create the illusion of space with style. The bathroom will also seem larger because of the light passing underneath. There is no need to worry about your storage needs since you can add built-in organization compartments into the cabinetry or add baskets underneath that offer some artful utility.
Now, last couple of years the trend was the rainfall showerhead, but now the latest models of showerheads can do so much more. An aromatherapy shower head will let you insert essential oil pods into the showerhead to infuse your bathroom with different scents. Some showerheads feature waterproof, Bluetooth-enabled speakers so you can listen to your favorite music while you "sing in the rain." With these new high-tech showerheads, you can decide how to use gravity! Don't think about water pressure. Instead, consider how gravity affects your perfect summer rainstorm shower experience or a dense wave spray that retains heat better. This is possible in 2022!
Creative and Decorative Bathroom Lighting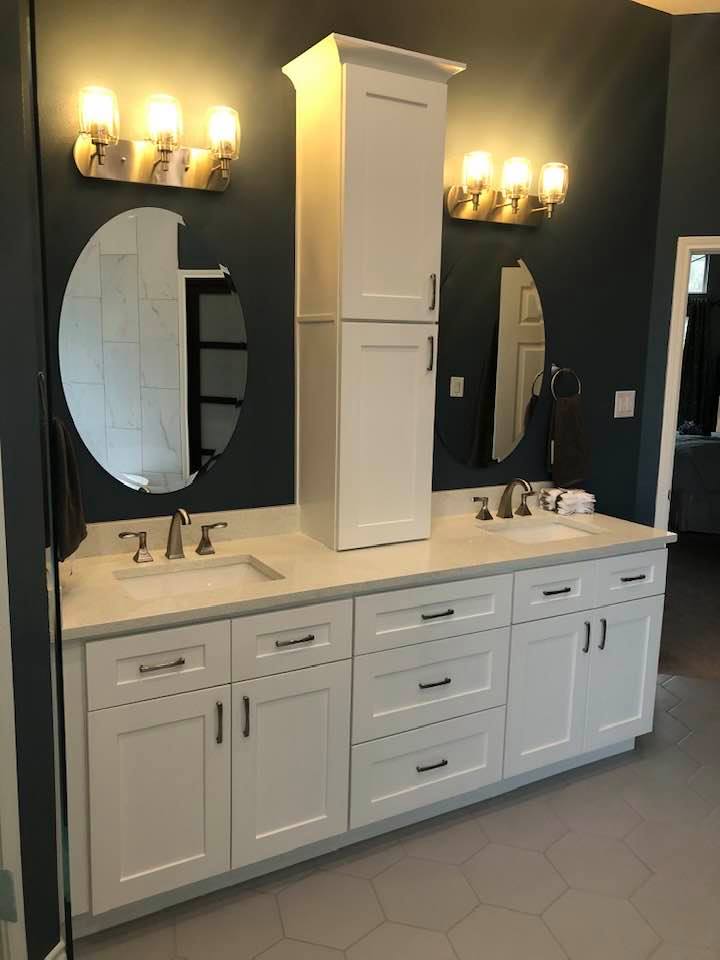 Decorative bathroom lighting is nothing new, but in 2022 you can expect to see more creative and exciting hit the market. Part of this trend is mixing and matching lighting schemes. One way is to mix finishes/metals, or another way is to contrast styles. You can show your style by incorporating different abstract types. Think of lighting as an art piece in your bathroom. You'll be surprised with what ideas will come to mind.
So, what is a wet room? Well, it's only an incredible open-concept part of the bathroom's shower area that includes a tile space with a significant drain. Most wet rooms include a freestanding tub in a glass enclosure that separates the sink and toilet areas. It improves your space usage, making your bathroom feel larger. It's especially a great option for smaller bathrooms. Another benefit is that most homeowners expect to recoup 56-64% of the renovation costs.
Interested In What Millwood Remodeling Can Do For Your Home?
Ready for your very own Millwood Remodel?
Contact us today to set up an in-home consultation!