Testimonials & References
See what our cusotmers have to say about Millwood Remodeling. Our craftsmanship, integrity and honesty are why we have had clients ask us to return for additional projects! 
Millwood Remodeling did a phenomenal job in remodeling our kitchen/dining/living rooms, including beautiful wood flooring, installation of all new cabinets, removing and securing load bearing walls, and reconfiguring our kitchen space. Millwood scheduled our job and did not leave until everything was competed to our satisfaction. Beautiful work. Our new oak 3/4″ X 3″ handscraped wood floors are especially wonderful. They were able to feather in our existing floors and perfectly match them! It is impossible to see where the old floor ended and the new begins. Very impressive. We have had wood floors in parts of our home for about 15 years, and now have them throughout our home. They wear beautifully. Our kitchen has been wood for the full 15 years, and looks perfect. We highly recommend Millwood Remodeling for all of their flooring and remodeling services. I feel that my home is my sanctuary more so now than ever before. Ed and Graham were a pleasure to work with. We incorporated their personal suggestions into our master plan and are most satisfied. Our remodel results were better than we ever envisioned. It went off without a hitch. Took a few days later than estimated because we changed our minds a few times, and Ed and Graham worked with us to completion.
Kitchen, great room and bath remodel. Hardwood floor in great room.
It went very well. Work was done very timely, workmanship was excellent. Final touches and changes were accommodated in a pleasant and professional manner. Helped us find the right fixtures, materials such as granite, lighting and cabinetry. They were very helpful in design decisions and gave us great advice. Extremely good value for the money spent. They did not take any shortcuts and were always available when we had questions or suggestions. I would use them again without hesitation and recommend them unconditionally.
MASTER BATHROOM REMODEL
One is always nervous when beginning a remodel project.  These guys took care of everything and gave us a terrific new master bath.  No worries!
MASTER SUITE REMODEL
If anyone has remodeling/painting/home improvement needs, I highly recommend Millwood Remodeling and Design. They are about to finish a 6 week project that entailed updating our kitchen floor, removing popcorn ceilings, flipping closets & building new closets, painting, and best of all – a complete 1950's pink bathroom remodel. Their attention to detail is impeccable, they go the extra mile, and they make things really easy on you as the homeowner. Two thumbs way up!
MASTER SUITE REMODEL
We are beyond thrilled with the total transformation of our master suite! It is truly like walking into a spa retreat! Graham, Ed, Abel and the whole crew worked with us tirelessly to make every detail exactly the way we envisioned it. We are perfectionists and so are they which made Millwood Remodeling the right fit for us! The van showed up every morning a few minutes before 8 EVERY morning until the job was completely finished. They would even wait in the van until 8 to knock on our door. This speaks volumes!! Also, we are a family of 5 with small kids and had to move out of our room during the job. This crew left our house clean and livable while they were working and were very conscientious of our family life. When the job was complete, the clean up was thorough and done right.
MASTER BATHROOM REMODEL
[we received a 'Thank You' card from this customer]:  "Dear Ed and Graham, (and Abel & Alejandro), Thank you so much for making our remodeling experience good. We love the results … everything ! Excellent workmanship and skill to make our ideas a reality. Sincerely, Helen & Joe Betts"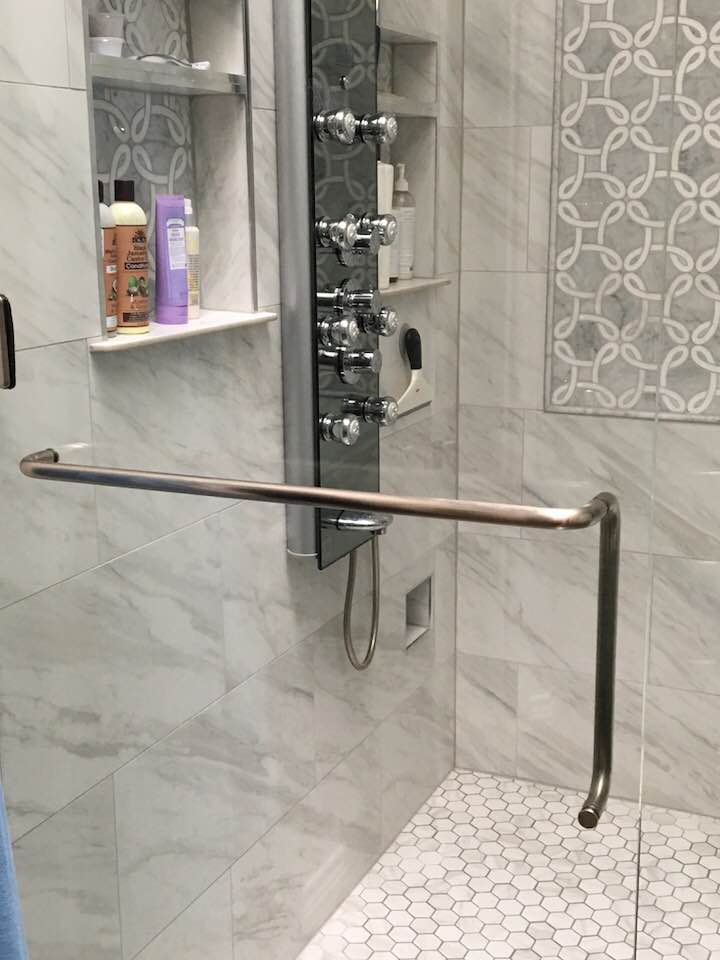 BATHROOM REMODEL
Millwood showed up when they said they would and did a good job remodeling my front bathroom. I am happy with the results. I also let them remodel my kitchen and am also happy with how that turned out. They discussed my needs instead of trying to sell the most expensive project.
MULTI BATHROOM REMODEL
Hired Millwood Homes to remodel 3 bathrooms simultaneously. I presented my initial ideas to them and was respectfully and knowledgably advised… thank goodness! They have vast experience in remodeling both interiors and exteriors including deck and fencing, and it shows in both their workmanship and professional approach. They were initially scheduled to begin work on the Monday but called and asked if they could start on the Thursday ? 2 days early! I have never heard of a contractor being early. I was quoted 3 weeks and so far, we are on schedule with the last bathroom to be finished in the next 2 days; even though I have had additional work done that should have added at least another couple of days. The A-Team that has been in my house arrived every day at 8 and tidied up before they left at 6; were considerate of my home and respectful of the fact that I was there working. I am extremely impressed and satisfied with the quality of the work and the products and highly recommended them. I will be using them to remodel the kitchen and remove ghastly popcorn ceilings and paint the rest of the house in the near future.
Interested In What Millwood Remodeling Can Do For Your Home?
Ready for your very own Millwood Remodel?
Contact us today to set up an in-home consultation!