In order to achieve an open-concept living space this year, you may be thinking of knocking down walls. Often, it seems as simple as grabbing a sledgehammer and building a spacious new room: But it's definitely more involved than that. If you are considering removing walls, you should first make sure that you can safely remove them and that the walls do not contain load-bearing material, plumbing, or electricity. In some cases, removing a wall can be a simple endeavor, while in other cases, it can be a major structural change. Here's what to consider.
Almost any wall can be removed, depending on your budget. Be aware of pipes, ducts, and wiring that run up into the wall. You will want to call a professional if you find plumbing, heating ducts, or wiring. They can provide advice and tell you how much the removal will cost. First, an assessment is required to determine the impact of removing the wall. There is still the option to remove a structural wall, but it will add remodeling costs and construction time to your project.
Is it a load bearing wall?
In a structural or load-bearing wall, the structure above it supports the weight of the objects above. It is not possible to just tear down load-bearing walls without replacing them with structural support since those walls can support a lot of weight.
It is possible to determine whether the wall is load-bearing by looking for a few clues. The first thing you need to do is measure the wall's thickness. A wall that exceeds 4.5 inches is likely to be a load-bearing wall. This isn't a hard-and-fast rule. However, most 2×4 walls aren't load bearing. Most structural walls are built with 2x6s.
Another clue is if it has a beam, column, or sometimes both can provide structural support. It is necessary to put in beams or other suitable supports to be able to support the same loads as the wall that is being torn down. Long-term damage to the home can be prevented by taking this step.
As opposed to a load-bearing wall, a non-load-bearing wall is not able to support any weight and can be removed easily without any structural reinforcement.
A load-bearing or non-load-bearing wall is the most important factor to consider in all of this. Based on this, you will determine what type of construction is required to remove the wall. In addition, it will dramatically affect the price and the steps involved in removing the wall.
Get started with your Millwood Remodel
Contact us today to set up an in-home consultation!
Is there plumbing or electricity in the wall?
There is a possibility that cables, plumbing, and electric wires will need to be rerouted when removing your wall. A wall with HVAC running through it will make the project much more challenging. A remodeling project may require an electrician, a plumber, and/or an HVAC technician, depending on what is in the wall. An experienced contractor, such as Millwood Remodeling, will be able to coordinate everything for you. In your home, you may experience water stopping for a couple of days if you remove any plumbing on your interior wall.
Are there any other considerations I should make when removing a wall?
It is almost always necessary to patch the voids left by removing a wall with flooring and drywall. Hardwood installations can be tricky depending on the condition and type of existing floors, as well as their direction. A large area may need to be sanded and finished if the hardwoods are not "prefinished". As well as the ceiling, it can also be a challenge, especially if it's popcorn, which will require scraping, refinishing, sanding, and painting. It will be necessary to render the adjacent walls and paint the entire room.
Is it better to do it yourself or hire a contractor?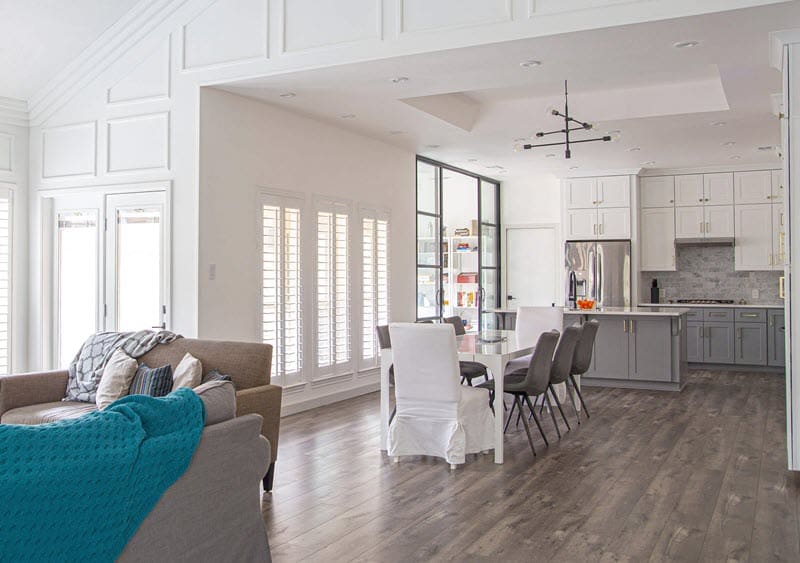 The Do-It-Yourself method is an excellent way to save money when updating a home, but removing a wall is a whole different story. It takes a lot of planning and work to ensure a house remains structurally sound. When knocking down walls in your house, there are several reasons why you should hire a company like Millwood Remodeling. 
A contractor will ensure that your home is structurally sound. As stated above, there are many challenges when removing walls, especially if they are load-bearing. Your house's weight must be supported by other means, which should be handled by professionals who can assess your property's needs. A professional will also be able to match the style of your architecture and ensure that your home complies with all building codes.
It is possible for any home improvement project to experience delays, challenges, and unforeseen problems. In structural projects such as removing load-bearing walls, you want to avoid the possibility of a partial collapse. In order to do this, you will need to install a temporary support system while the remodeling is being done. This is not an easy thing to do unless you are an expert.
The removal of walls for a more open floor plan is a wonderful way to give your home a stunning upgrade. A remodeling team with the right skills can help you open up your home to amazing results. 
At Millwood Remodeling & Design, we have over 20 years of experience and have renovated and remodeled over 100+ complete houses and 1200 bathrooms and 800 kitchens!
Interested In What Millwood Remodeling Can Do For Your Home?
Ready for your very own Millwood Remodel?
Contact us today to set up an in-home consultation!