Are you considering remodeling your home? Or maybe moving to a new one? Both options have pros and cons but deciding which is the best choice for you can be tricky. This blog post will look at some areas you need to consider when deciding. So, whether you're ready to start packing or just getting started on some preliminary research on remodeling, read on for some helpful tips!
Evaluate your needs and wants
Home ownership is a significant investment, and you need to make sure your house meets your needs. If you're considering making some changes, it's wise to evaluate your needs and wants first. Looking for more space? A different layout? Updated features? When you know what you want, you can decide whether to remodel your existing home or move to a new one. There are pros and cons to both options. You can stay in your neighborhood and home by remodeling, although it can be time-consuming and expensive. However, moving can be a major disruption, as you change school districts, pack, and have to find the right place/location.
Remodeling or moving is a difficult decision for most people. As a result, many factors need to be considered, such as cost, time, effort, and emotional attachment.
When deciding whether to move or remodel, your budget is one of the most important factors to consider. The cost of remodeling can be high, but the results can be worth it. Moving is also expensive, especially if you are moving to a different state or city. Before making any decisions, sit down and create a budget. Calculate your budget and account for any unexpected expenses. Having a clear idea of your budget will help you narrow down your options.
Get started with your Millwood Remodel
Contact us today to set up an in-home consultation!
Make a decision based on the facts, not your emotions
It is easy to get caught up in the emotional aspects of deciding whether to move or remodel. In the end, your home represents a substantial investment, so you're bound to feel attached to it.
Moving can seem less appealing when you consider leaving behind a home you love, a community you've grown up in, and memories you've made. Do you and your family feel ready to move to another house, far from your neighbors, schools, and businesses? In making such a decision, it is imperative to consider emotional and financial factors.
However, it is wise to decide based on the facts, not your emotions. Take a step back and objectively evaluate your situation. What is the most sensible decision for you, both financially and practically? As soon as you've made a decision, you can begin preparing for the next chapter in your life.
Weigh the pros and cons of moving vs. remodeling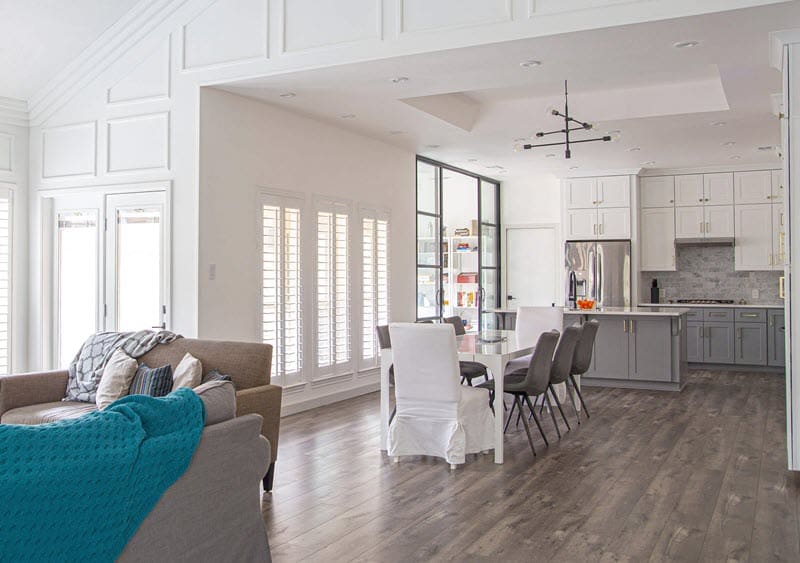 There are pros and cons to both moving and remodeling. It's important to weigh all of the factors before making a decision. Here are some things to consider:
Pros of Moving
Moving allows you to start fresh in a new place.
House that suits your needs, right-size. Whether bigger or smaller, it's what you want.
Get the floorplan you want. Open-concept, extra bedroom, etc.
Cons of Moving
Can be disruptive and time-consuming to move.
Can be expensive, especially if you're moving to a new city or state.
Sentimental losses and leaving behind special memories.
Pros of Remodeling
Allows you to stay in your current home and neighborhood.
Update your home with new features and the ability to create your dream home.
Increase your home value by adding square footage and upgrading the interior.

High Return on Investment (ROI)

Kitchens and Bathrooms – 80-90% ROI
Opening up Walls – 50-60% ROI
Cons of Remodeling
Time-consuming and can be disruptive, depending on the scope of the project
Unforeseen costs or delays can cause budget strains and timeline issues
No guarantee on increased home value
Get started on your project!
After you've decided to move or remodel, it's time to get started! If you're remodeling, begin by making a list of the changes you want to make. When you have a plan in place, you can start gathering materials and get to work or find a reputable remodeling company like Millwood Remodeling to handle the job for you. They can help with the remodeling plan, ideas, and design too.
If you're moving, start by researching new homes in the area. A move can be a big undertaking, but it's also a new adventure.
It can be challenging to decide whether to move or remodel, but it doesn't have to be. By evaluating your needs and wants, you can make the best decision for yourself and your family. Enjoy the process, no matter what you decide!
Interested In What Millwood Remodeling Can Do For Your Home?
Ready for your very own Millwood Remodel?
Contact us today to set up an in-home consultation!