During the past year and a half, you have gotten to know the ins and outs of your home better than ever before. You start to remember why you bought your house – community, space, fits your family's needs. You also start remembering or start thinking about all the ways your home could be improved. Start asking yourself questions. Should we move to something a little more updated? Should we remodel rooms of the house to update the look and feel? Should we remodel to make the house flow better? Maybe an open floor plan? How much will remodeling cost?
The housing market has been very demanding this last year and a half. To sell your home and find the right home that fits your needs is challenging. Prices are fluctuating at a high margin, buyers are out-bidding other buyers quickly. Some homes are being sold without even seeing the home first. This is a very fluid process and can be very expensive. Home remodeling starts to sound like the right fit for your family.
With so many home improvement shows, such as 'Fixer Upper' and 'Love it or List it', remodeling sounds like a simple, straightforward idea. The challenge is that these HGTV series show how effortless it is to gut your house and remodel it on a very small budget. In thirty minutes, you can design, gut, remodel and be on budget. But I'm sure you're thinking, how much does it really cost to remodel your home?
Home remodeling projects can require substantial investments and can be intimidating to the homeowner because they can include unexpected hurdles such as budget cutbacks or labor setbacks, both can be upsetting when you want the project to end and return to your daily routine.
Looking at the other side, investing in an update or remodel can increase your home's value and usability. A new up-to-date design, more room, and updated appliances will make it more marketable (and add value to your home).
Let's look at the suggested spend by home remodeling project.
Suggested Spend By Project
| | |
| --- | --- |
| Project Type | Suggested Spend (based on home value) |
| Kitchen | 16% |
| Attic or basement | 10 – 15% |
| Primary bedroom | 13% |
| Living area | 10% |
| Primary bathroom | 7% |
| Small bathroom | 5% |
| Siding | 3 – 5% |
| Windows | 3 – 4% |
| Patio or backyard | 2 – 5% |
| Roof | 2 – 4% |
| Standard Bedroom | 1 – 3% |
Bathroom Remodeling Projects
Bathroom remodels has become a major area of interest in most remodeling projects with costs between $20,000 – $60,000. There has been a surge of home's wanting to create a large spectacular double shower with 2 shower systems and possibly a large rain shower head and removing the traditional large tub. Many of these walk-in showers have no doors or threshold. Vanities now feature deep large drawers for towels and products to be stored in one place. Traditional mirrors and vanity lights are being replaced with large LED mirrors. Some of these items will be considered mid to high-range costs.
| | | |
| --- | --- | --- |
| Bathroom Remodeling Costs | Low to Mid Range | High End |
| Bathtub | $400 – $4,100 | $6,000 – $8,000 |
| Cabinets | $1,200 – $7,000 | $8,000 – $13,000 |
| Countertops | $900 – $4,100 | $5,000 – $6,500 |
| Flooring | $800 – $3,600 | $5,000 – $7,000 |
| Lighting Fixtures | $120 – $1,700 | $2,500 – $4,000 |
| Shower | $450 – $4,800 | $10,000 – $15,000 |
| Sink | $190 – $2,300 | $3,500 – $6,500 |
| Toilet | $130 – $500 | $550 – $800 |
| Total | $4,190 – $28,100 | $36,550 – $55,800 |
Source: HomeAdvisor
Kitchen Remodeling Projects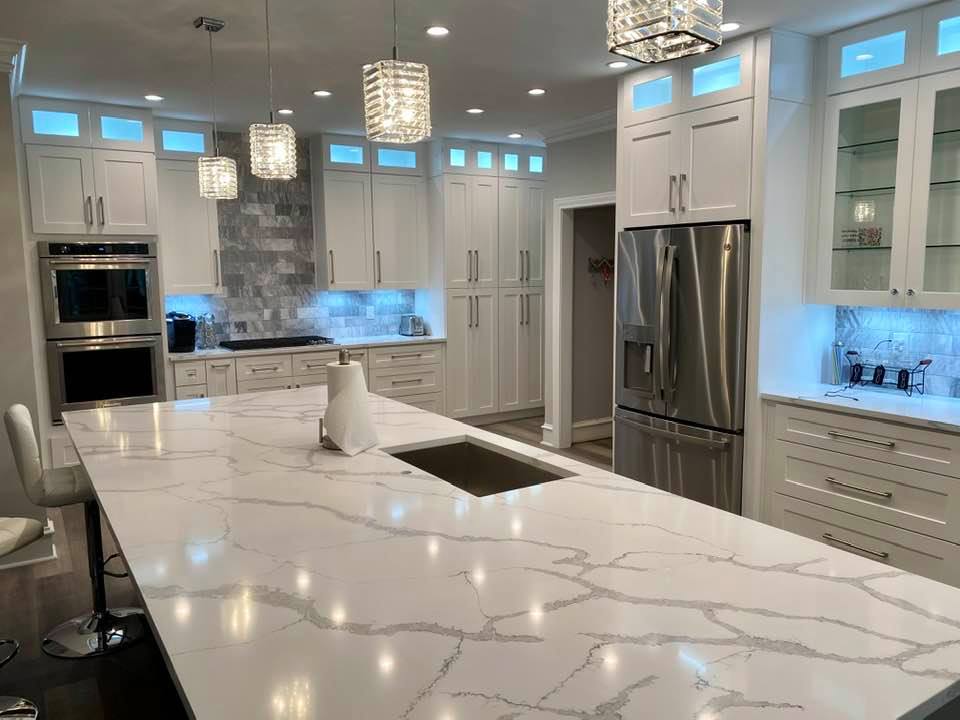 Kitchen remodels have become a centerpiece in most remodeling projects with costs between $25,000 – $65,000+. A functional kitchen design would be to create a fluid workspace where 2 or more people can function simultaneously is crucial. Many homeowners still use the classic 'work triangle'. This is where the sink, worktop and cooktop/oven are close together for efficiency. Also large islands, that seat 4-5 people is more common than the traditional 'nook' dining table. This 'nook' space can be used to extend the kitchen for more workspace, storage and/or a larger kitchen feel.
Below is a list of some popular projects based on the scale of the kitchen remodeling job.
Small: $10,000-$35,000.Upgrading lighting, faucets, paint, and trim, adding budget-friendly backsplashes and counter extensions, and knocking down non-load-bearing walls.
Mid Range: $35,000-$65,000. Upgrading appliances and floors, and adding a tile backsplash, cabinets, and moderately priced counters.
High End: $65,000+. Adding custom cabinetry, stone or granite counters, high-end EnergyStar appliances, overhead lighting, hardwood flooring and a new sink with faucet.
(Source: HomeAdvisor)
Get started with your Millwood Remodel
Contact us today to set up an in-home consultation!
Materials and Labor
Home remodeling projects are composed of two parts: materials and labor. Home products can vary considerably in quality. On one side, we can choose to use materials like finish-in-place hardwoods, engineered hardwood flooring, Mapei premixed, ready sealed, antimicrobial agents, non-mold Grout and/or shower glass with Enduroshield coating for easy cleaning. On the other side are off-the-shelf and ready to install products, such as pre-made cabinets from a Home Depot.
Different materials can affect price differences. You can have two materials that are basically identical to install but can have different prices with the same labor cost. But you should not only look at pricing, you also need to review quality of the material. Some of the higher quality materials can be faster with installation but it can also be slower, causing higher labor costs.
There are four major pricing factors for remodeling projects, which we can demonstrate by looking at:
Material quantity
Material quality
Labor quantity
Labor quality
Material quantity is often a simple matter of arithmetic. For some projects, when covering a surface with one material, we can multiply the length by the width, add on a small amount of material loss due to cutting and waste (typically 5% to 10%) and end up with the necessary square footage quantity. For other types of jobs, it can be as simple as the linear length, a per unit cost or a per volume cost. Regardless, the arithmetic remains relatively straight forward.
Material quality is not unrelated. Pick your level of quality and grade within that quality band, and that sets the price level to multiply by your quantity.
Labor quantity is a calculation of the number of people required for a job and the number of hours they work. While some jobs, like painting, typically require a certain number of person hours worked, regardless of how many people are working simultaneously, other jobs, such as a complicated concrete pour, require a minimum number of people working concurrently to make sure projects go smoothly.
Labor quality is the fourth and final component of cost and is simultaneously the most important and the hardest to measure. An entire project is contingent on the skill, experience and wisdom of the contractors doing the work, but the quality of labor is harder to assess, measure and understand. (Source: HomeAdvisor True Cost Report

)
When considering complicated remodeling projects, such as bathrooms and kitchens, you'll want a high-quality professional contractor. By hiring a high-quality professional team, you will get:
Knowledge of necessary permits and realistic lead times.
Creativity for avoiding off-the-shelf, cookie cutter looks while avoiding expensive mistakes.
Sense of artistry around tiling and building in a shower or bath area to design the perfect layout.
Understanding of physical alterations to ensure that the changes do not harm the aesthetic or functional needs of the space.
Skills to complete, large, complicated projects involving removing walls, construction, and plumbing/electrical installations.
Accurate time estimations and the expertise to avoid schedule problems.
Accurate cost estimations and the knowledge to avoid cost overruns.
Conclusion
In summary, remodeling is a significant decision with both personal and financial intentions. You might want to resell your home and are remodeling to add value to your home. You might want to remodel your home to update the floorplan and give the home a new, fresh feel. There are pros and cons to consider but either way, you are increasing the value of your home.
The costs of remodeling does vary due to an assortment of factors but how much you decide to spend on a remodel should be in relation to value of homes in your neighborhood. A great tip to remember is you want to get back 70 – 80% of the value when you sell. Speak to an experienced remodeling and design company. They will be able to walk you through all the steps and remember it is your home that is being remodeled. Their job is to help design, manage and complete the project(s) in a timely manner.
If you're in the DFW area, Millwood Remodeling and Design are first-rate, skilled and experienced contractors to hire for your remodel. Learn more at millwoodremodeling.com.
Interested In What Millwood Remodeling Can Do For Your Home?
Ready for your very own Millwood Remodel?
Contact us today to set up an in-home consultation!